Fall River Clerk/Treasurer's Office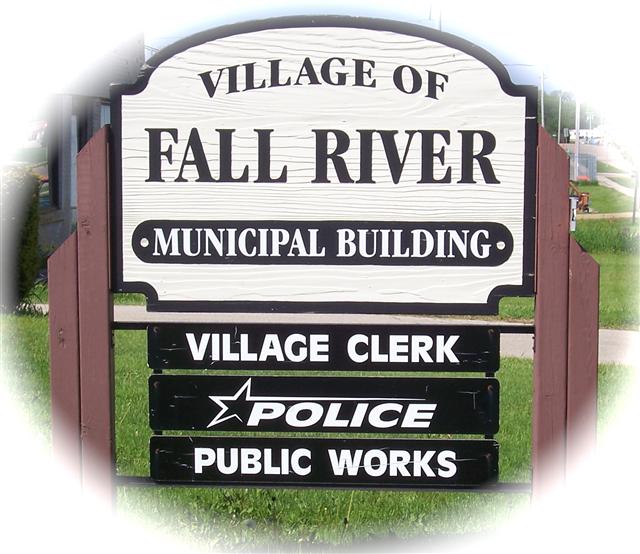 The Clerk/Treasurer's office can assist you with:
Water and sewer utility payments- Fall River Water & Sewer utility customers will receive a bill at the beginning of each month. Customers who do not make payment before the due date listed on the billing will receive a ten-day disconnect notice. Payment must be made within ten days to avoid having water service disconnected.
Debit or credit cards are NOT accepted at the Clerk/Treasurer's office. However, debit or credit cards can be used to make tax or utility payments by using the payment service www.govpaynow.com or by calling 888-604-7888. There is a service fee for internet payments and for phone payments. For tax payments, use Pay Location Code PLC 6641. For utility payments, use PLC 6642.
Zoning Map – A digital version of the Village's Zoning Map is available to view here.
Tax payments may be made in person at the Village Hall during the office hours listed, by using the drop box located near the main entrance to the Village Hall, by mail, or at the Farmers & Merchants Union Bank Fall River office, 637 S. Main St. Payments will be accepted in person during regular business hours at the Farmers & Merchants Fall River branch through January 31. Please have a check for the correct amount of taxes being paid. A refund check cannot be issued immediately. Credit or debit cards are not accepted in person. However, credit or debit card payments may be made by using the payment service www.govpaynow.com or by calling 888-604-7888. There is a 3.5% service fee ($3.50 minimum) for internet payments and 6% service fee ($11 minimum) for phone payments. For tax payments, use Pay Location Code (PLC) 6641.  If using the drop box or mail to make a payment, and you would like a receipt, please enclose a stamped, self-addressed envelope. Homeowners not receiving a lottery credit on their tax bill should contact the Village Treasurer's office to see if they are eligible to receive this credit. This credit reduces the amount of the first installment. The Village Treasurer collects payments only until January 31. Second installments are paid directly to the Columbia County Treasurer. Tax information can be found at www.co.columbia.wi.us.
Everyone having a cat or dog must have it licensed. If your pet is not licensed by April 1, you will pay a $10 penalty and may be fined. Pit bulls are not allowed in Fall River unless licensed before 2007.

Pet license fees:
Neutered or spayed dog or cat- $4.00 + $3.00 administration fee = $7.00
Not-neutered or spayed dog or cat- $9.00 + $3.00 administration fee = $12.00

Licenses can be purchased at the Village Hall or by mail. If purchasing by mail, please include a stamped, self-addressed envelope along with your payment. We will need proof of rabies shot(s). We must have the date, manufacturer and serial number of the shot. Your veterinarian will have this vaccination certificate. According to
Village Ordinance 7-1-19
, the limit to the number of dogs and/or cats that can be kept in a residential unit is three (3).
Elections are held at the Fall River Municipal Building, 641 S. Main St. Polls open at 7:00 AM and close at 8:00 PM. The building is handicapped accessible. Contact the Clerk's office to obtain absentee ballots.

2011 Wisconsin Act 23 voting in Wisconsin- The law requires voters to present an acceptable photo ID to receive a ballot. Voters are required to sign the poll book when they vote. Changes to your residency requires an address change registration before you are to vote. More details of the law can be found at http://elections.wi.gov/
Information on voter registration, absentee voting, and in-person voting can be found at https://myvote.wi.gov/en-us/
Download a voter registration form. This form is used for new voter registrations, address changes and name changes.
Download an absentee ballot application form. If mailing the absentee ballot application you are required to include a photo I.D.
Check to see if you are registered in Fall River. You will need to register again if you have changed your address and/or changed your name. You can register online or register in the Clerk's office. Election Day can be very busy, do it ahead to save yourself time!
Fall River Residents – Visit myvote.wi.gov
Click here for information on the 2023 Village of Fall River budget.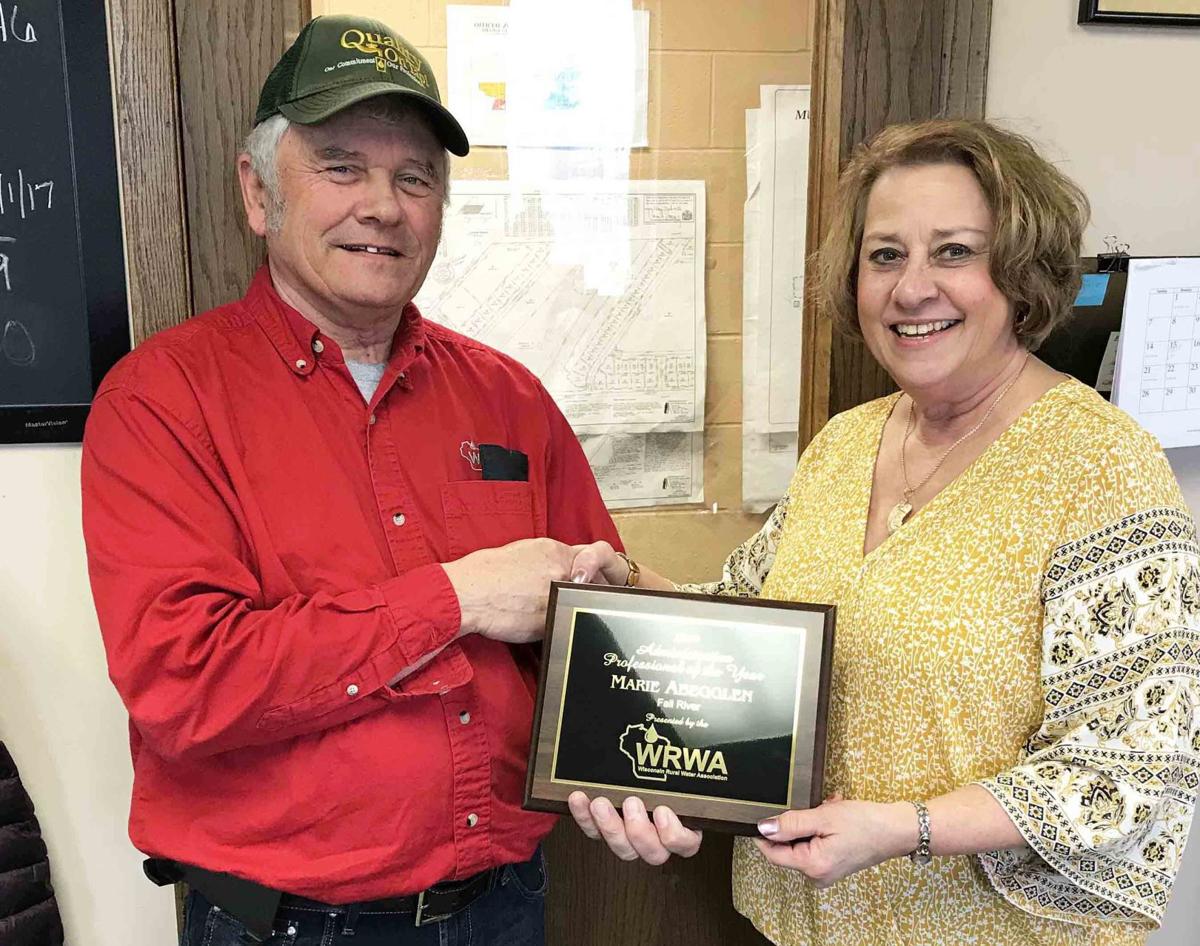 Clerk/Treasurer Marie Abegglen receives award from WRWA Representative Ed Hendzel
Fall River Clerk Marie Abegglen
honored with state award

KEVIN DAMASK kdamask@wiscnews.com Apr 17, 2019

As clerk of a small municipality, Marie Abegglen juggles many duties, including handling residents' water utility bills.
For her dedicated work, Abegglen was honored recently by the Wisconsin Rural Water Association at its annual conference in La Crosse. Abegglen, who has served as Fall River village clerk/treasurer since 2003, was named Administrative Professional of the Year.
According to a press release, the award is presented each year to individuals that have demonstrated a lifetime of excellence in water operations. Award winners are affiliated with the state's rural water association and have "shown a high-level of support to the mission of WRWA by participating and assisting in rural water programs and activities, and to individuals who have shown exemplary service to their customers and communities they serve."
Getting honored by the state was a pleasant surprise for Abegglen. She was nominated by a Fall River village employee, but Abegglen doesn't know who filed the nomination.
"It's nice receiving an award that you know the people you work with wanted you to get," Abegglen said. "It just really means a lot. I even got applause from the village board."
Ed Hendzel from the rural water association said Abegglen's work makes her standout among administrative professionals.
"I always thought when I stopped in the clerk's office, Marie acted in a professional manner and tried to do what was best for Fall River," Hendzel said.
He said Abegglen showed a lot of interest in the organization's effort to assist, educate and represent its members in wisely using water resources. The non-profit association represents most of the water and wastewater systems in the state.
"A few years ago we held a calendar raffle to help raise funds to pay off our debt on our training center and Marie was a big help with selling calendars so we appreciate the help she gave us," Hendzel said. "Marie goes above and beyond what is expected of her position."
Abegglen said overseeing Fall River's water utility is only a small part of her daily duties.
"We do everything from (filing) property taxes, getting budgets ready, taking license applications … we're also utility clerks, and that's where rural water comes in because we oversee all the utility, too," Abegglen said. "It's a varied job; it's not like you come in and know exactly what the day is going to be."
She is also the village's first line of communication to Fall River residents. When they call the village office to report a concern, Abegglen's voice is usually on the other end.
"I'm kind of the liaison between the residents and village board," Abegglen said.
Abegglen, who grew up in Beaver Dam, began working for the village in 1997, under former clerk/treasurer Sandy Dykstra. Initially, she was hired to help Dykstra compile information for the 2000 census. After the census work ended, Dykstra found additional duties for Abegglen and she became full-time clerk in 2003. She enjoys the job's spontaneity and working with people.
"It's not like you come in and you work in one area or department," Abegglen said. "You come in and you don't know what you're going to do on any given day, but there's always something to do."
In 1979, she married Reggie Abegglen, a Fall River native, and moved to the area. After he died at a young age, she decided to stay in Fall River, which felt like home. Abegglen is currently married to Fred "Fuzzy" Shepard, Jr.
When asked how much longer she wants to stay on as village clerk, she responded, somewhat jokingly, "forever." Abegglen plans to keep serving Fall River as long as she is able. And, similar to Dykstra two decades ago, she is passing along her knowledge to Assistant Clerk Hannah Rohlinger.
"Fall River has been just fantastic to me and I just love it here," Abegglen said. "Always have, always will. I don't want to live anywhere else."
This article originally appeared in the Columbus Journal.