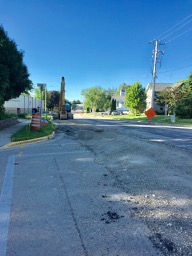 June 5 - Construction begins on South Street
Please try to avoid traveling through this area of South Street if at all possible. While construction is underway, the intersection of South and Kane Streets or the intersection of Church and South Streets will remain open. Depending on construction progress, only one of these intersections may be open at any given time, and access may change from day to day. This will allow local traffic to access Main Street via Kane and Bradley, or Church and South. Truck traffic will not be allowed on residential streets- trucks should access Main Street/County D via Highway 16.
--------
The Village of Fall River will be reconstructing South Street during the summer of 2017. The section of South Street from Main Street to a point approximately 500 feet south of Kane Street will be affected. The scope of the project will include removal and replacement of the driving surface, curb and gutter, sidewalks, water main, sanitary sewer main, and storm sewer. Water and sanitary sewer laterals within the right-of-way will be replaced, and improved signage in the area near the school will be installed. Construction is expected to begin after school is out in June and be completed by September. South Street will be closed to through-traffic during construction.
The Village has contracted with General Engineering, Portage, for design, engineering, and inspection services. Kruczek Construction, Green Bay, will be the general contractor.
An informational meeting was held on April 26 at 6:30 pm in the multipurpose room at the Fall River School with representatives from the Village, General Engineering, and Kruczek Construction.
Construction on South Street is scheduled to begin on June 5 and to be completed by September 1. During this time, the area of South Street under construction will be closed to through-traffic. Local residents will be able to access their property before the contractor begins work each morning and at the end of each work day. Typically, construction will be taking place Monday-Friday from approximately 7 am to 5 pm. A weather delay during the week may require working on Friday.
Mail delivery will be affected for South Street residents. The contractor will be installing banks of mailboxes in adjacent areas accessible to the mail carrier. Residents will be notified of the location where they will need to pick up their mail. Existing mailboxes will be removed by the contractor, placed on the lawn of each property, and reinstalled at the completion of the project.
Residents should continue to place garbage and recyclables curbside or as near as possible to the regular pick-up spot for Thursday collection. The contractor will be working with Advanced Disposal to ensure garbage and recyclables are collected.
The Village of Fall River, General Engineering, and Kruczek Construction appreciate everyone's patience and cooperation throughout this project. While some inconveniences are inevitable, we will do what we can do make the project go smoothly.